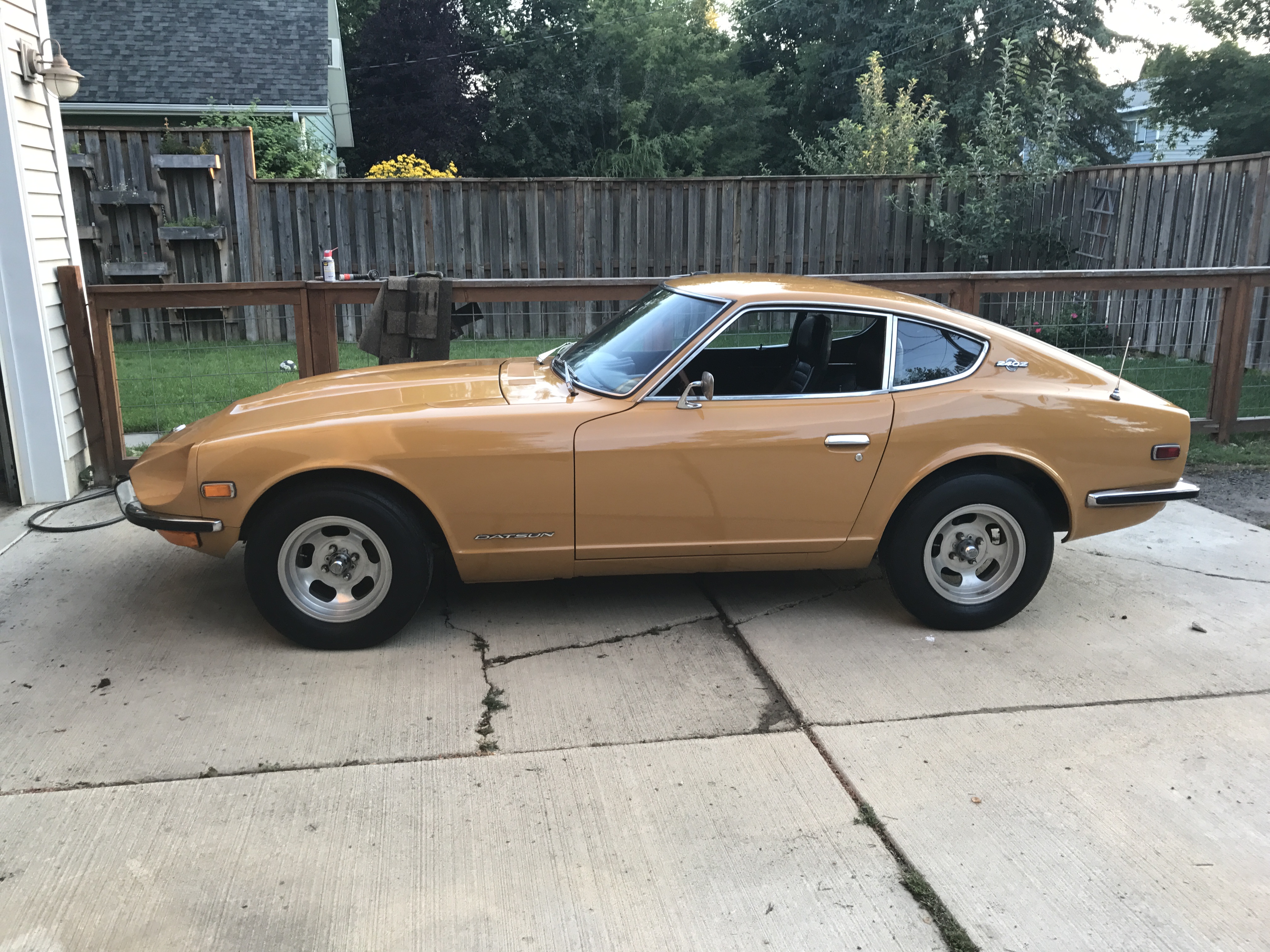 Content count

69

Joined

Last visited

Days Won

3
Community Reputation
25
Excellent
My Z Cars
Zcars Owned
About My Cars
duffymahoney replied to HaZmatt's topic in For Sale

Surprised it took this long!

Got the drive lines back today from having u joints pressed in. They came out pretty good, paint/ powder had some nicks from their press, so I had to do some touch up paint. The tech didn't like the powder on the end of the flanges. He said the powder will eventually wear down and cause slop. Anyone heard of this? Or think he is correct?

Filter holder is now powder coated. I love doing all the little things.

They make rebuild kits for them, depends on what is wrong with yours.

Have them bring it to the store, if it's a stock reman then you are good, most likely it will be a knock off.

Evap tank or gas tank? I assume you are talking about the gas tank, I will either use a stainless rod bent, or a spring, I haven't decided yet, tank should be done and back this week.

Hard to tell, but I think there is, it's depth matches stock.

duffymahoney replied to HaZmatt's topic in For Sale

Let me know if you want to trade:) I am sure it will sell quickly.

Got the new 5/8 line in the mail today and got all lines replaced, this is the last of my lines that were old and brittle. It was a pain, but glad I got to clean the area and check for rust and get new grommets installed.

It is gigantic! I would like the option of AC, I might look into the zx ac bracket and pump and upgrade my system. If I can use most of the parts.

duffymahoney replied to HaZmatt's topic in For Sale

Wow, this is basically perfect in my eyes, worth every penny. Good luck on the sale, I would have bought this instead of my build if I would have known. Cheers!

Since I have a series 1 the brake lines are reversed on the wilwood MC. So I had to buy lines and bend them. What a pain, they don't look great, but I was about to throw them in the garbage when I finally figured it out. I also removed some over spray and also cleaned up some wiring around the coil. Also got my fake wats star wars rogue squadron hub cap centers! Dorky, but I love them. Broke off the exhaust studs, tried welding to them, but my welds just break. I think my two options are either remove the manifold or drill and tap, if I can get them drilled out easily.

I bent my own lines, it was a pain, but it ended up working. They are switched, it's hard to see in the picture.

Not a lot of force, mine was bad, same early design. Ended up going wilwood.

I am switching all stock hoses out, all look pretty good but are brittle or cracked. I decided against braided, partly because all I found said they won't work with ethanol and partly because I don't want the braids trapping dirt and grease. I got all but the larger diameter installed (close to 5/8). The 5/8th I got was a strangely large OD. So it wouldn't work. Found one online that will though. Routing them was a pain. Going with all hoses rated for ethanol. The evap tank is crazy design. Also replaced all the grommets. I am so happy with the level of rust on this Z. This area sure looks amazing.