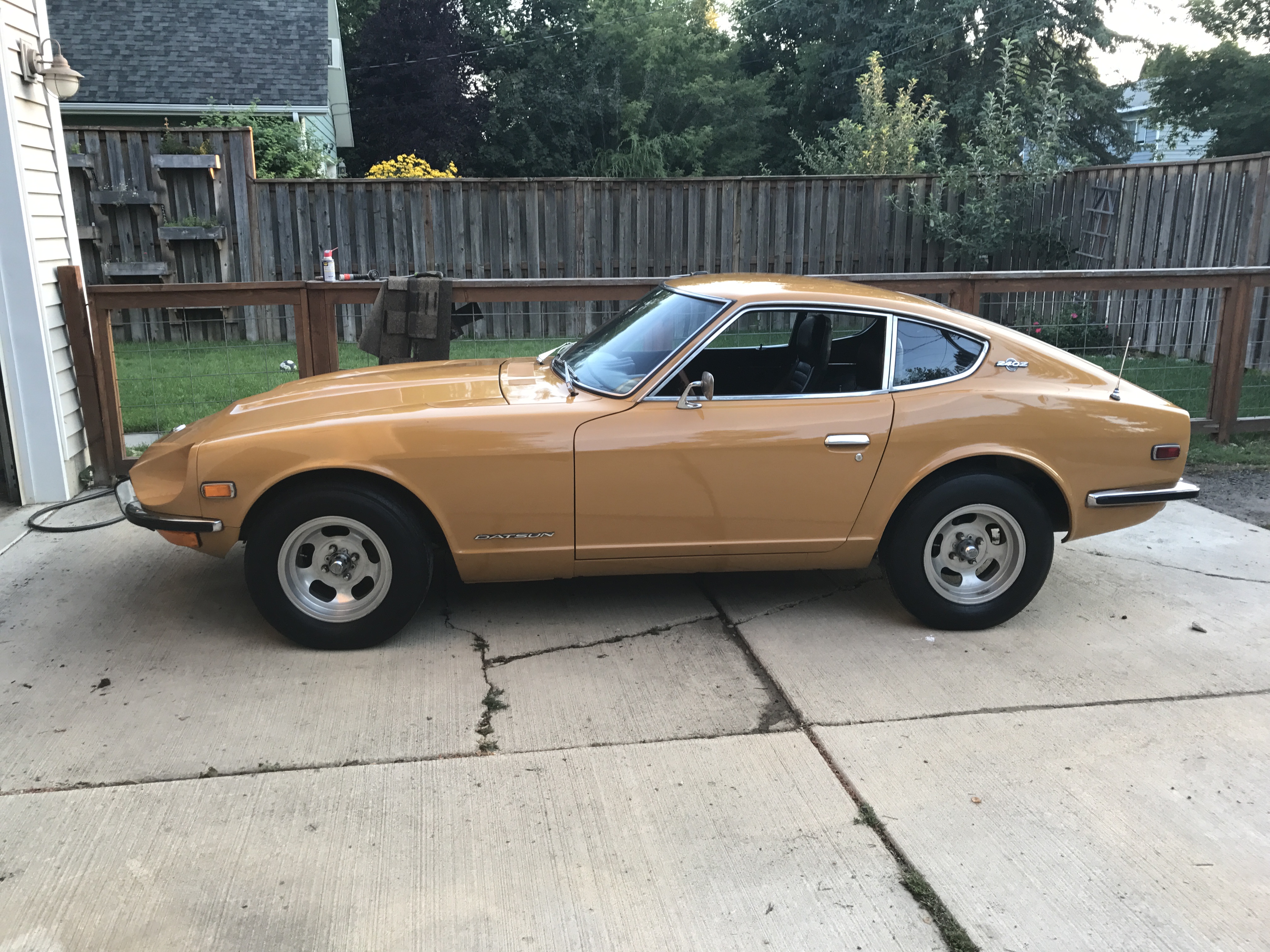 Content count

123

Joined

Last visited

Days Won

3
Community Reputation
32
Excellent
My Z Cars
Zcars Owned
About My Cars
2-3 months ago. I baked them in the oven on warm for 2 hours, installed, left the door shut for a couple of days. Then got some rubber conditioner, then opening and closing them over and over made them almost stock. Still not fully ready yet, but happy.

My precisions work fine. Took some time, no need to slam.

Collection of carbs is growing. 2 more. 40 and 44. Both missing a lot of smalls. I probably overpaid, but hey I am having fun! All are in amazing condition. These haven't been used since the 80s. The insides look never used. Also got a hilarious dcoe intake for a chevy.

Following, I think this is on my list of mods after triples.

I need to move, get a shop and a car lift. 2 project cars is a lot:)

Not really an update, still waiting on bearings to be pressed in. But I got a NOS service manual. I decided on 1970 since mine is a series 1 1/71 build. It's so cool. Goes nicely with my other manuals.

I found a great deal on some ztheraphy carbs from the same year series 1. So I jumped on it, I will do the euro style balance tube and have the intakes polished to match and re-zinc everything. Should look great. I will remove mine and put them away for safe keeping. If I ever sell it I want the owner to be able to go back to stock if he or she wanted. I also got a type 4 mikuni 44. It's in amazing conditon. I am going to try and piece a set together. Or am i just hoarding carbs?:)

Man, this would be so nice in my z:) Let us know you decide shipping is an option.

I really wish i would have done black zinc on all the u-joint knuckles.

I have not driven mine, but the consensus on all the Z forums and facebook is that the rear disks aren't needed. Most people either can't tell a difference or any gain. Some claim loses in braking power. I did it because my drums were toast and i like the look and ease of disks. That's about it. Hope that helps

Here is what I used for rear disks. You have to cut the dust shield off, or like me just unbolted it. Brackets- https://zcardepot.com/all-products/brakes/rear-brakes/rear-disc-brake-caliper-conversion-bracket-set-disk 1986 maxima calipers- Ebay then rebuilt and powdercoated 1985 300zx rotors- Cross drilled and zinc- http://www.silverminemotors.com/datsun/datsun-240z/brake-kit-individual-parts/rear-disk-conversion-rotors Stainless lines – Stop tech 800-1099- I think i got these from zcardepot.

Got hub parts back from the plater and a new to me series 1 coin tray. One tiny tiny crack around the screw hole. Excited since mine was terrible. Gosh I love zinc:)!

Left is the cheaper spirit garage. I am leaning that way, I love the look of the dual going into the muffler and how high it would tuck. I need to find out more, but this looks to be an adapter from stock manifold to the spirit garage. I might keep my motor and manifold stock for now. Then upgrade down the road. My stock exhaust is shot though. https://www.rhdjapan.com/spirit-garage-dual-support-exhaust-outlet-l6.html

I like the twin pipe all the way back like spirit garage. Looks cleaner and tucked up.