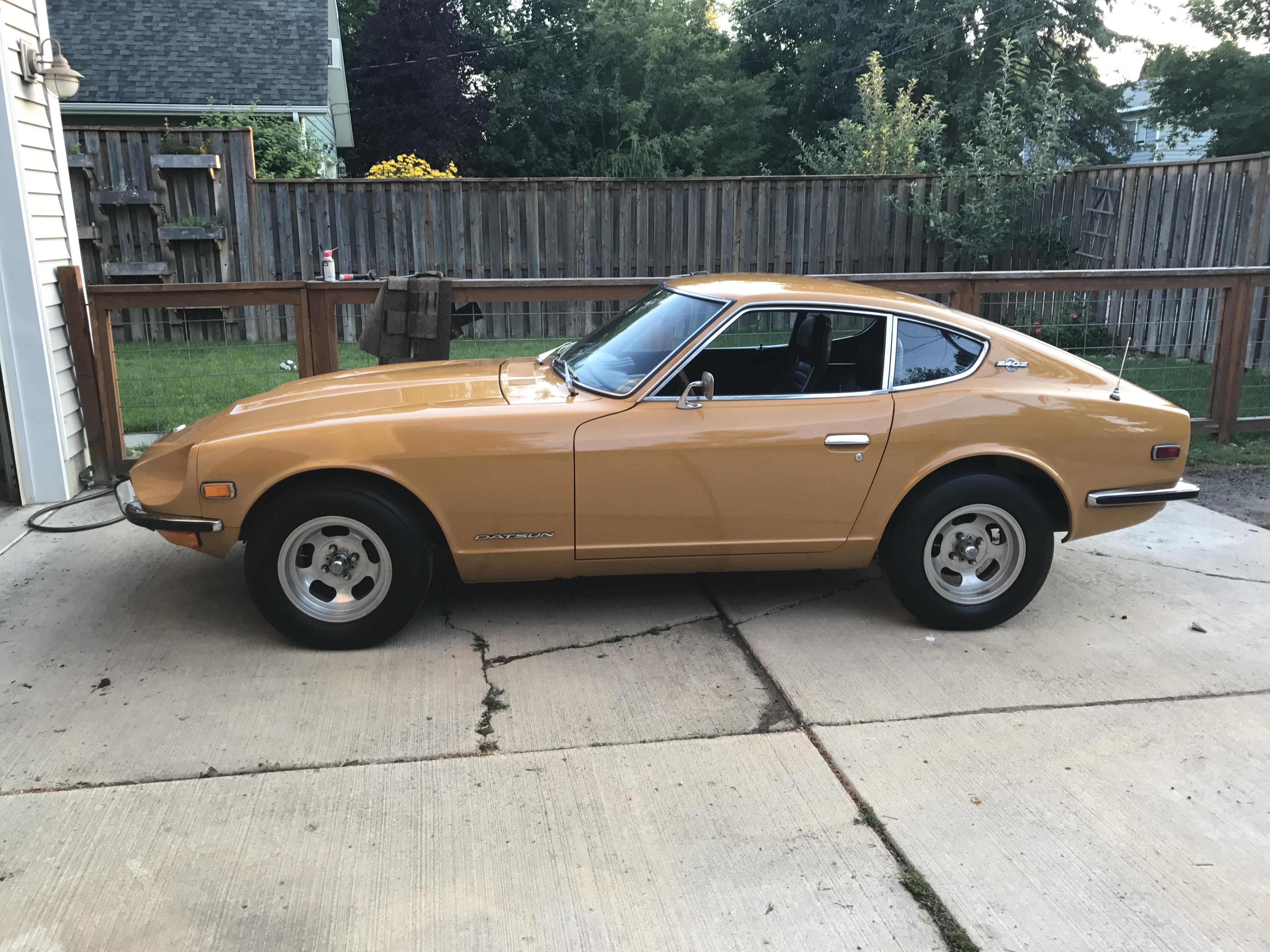 Content Count

531

Joined

Last visited

Days Won

6
Everything posted by duffymahoney
Those tools like very neat! Someday I might paint this car, but I would rather not. Thank you for the compliment. It's been a fun project. I really like working on the Z.

Now that is neat! I found out about TFC when I got a set of ztheraphy carbs. I was impressed by the zinc. So I emailed them and asked who the shop was. They are usually pretty fast as well. Most zinc shops are slow and smaller batches aren't important.

I think I have used 4 shops over the years. Most are the same. I currently loving TFC in Oregon. Prep is key.

No I don't plate at home. I send it off, zinc is cheap to have done. I have been sending car parts off to zinc for a while now. I found a shop I like and just ship them boxes of parts. Works great.

Well the original oil pan seal finally died. So I pulled the pan, zinc'd the pan bolts and powder coated the outside of the pan. The inside black material is pretty good condition. It's come off a little at the edges. Now to get it on without too many scratches.

The ebay wire loop style clamps work well and look fairly accurate.

Interesting fact. My late series 1 has a attachment for the hand throttle on the pedal, but doesn't have the mount for the cable.

I can control individual spark dwell with sequential. Can you do that with wasted?

Wasted spark is fine 99% of the time. I went with full sequential, just because of how easy it was, 3 wires and a cam sensor. I think it added 150$ to my install.

Fuel system is finished and works fine. How i have it is exactly how a lot of OEM tanks are setup. So I doubt I will have any issues. She is running rich, but the gas smell is down to a normal level now. I am very happy with that aspect. Next big hurdle is cold idle and dialed in tune. You can tune around it, but without a IAC, it's going to be a balancing act. My car has been 32-35 degrees when I have been starting it.

I have a blake coil bracket, brand new and a hoke crank trigger kit brand new I need to sell. I have both tooth counts for it. Either 60-2 or 36-1. It's for a stock 240z dampener. So most likely the one on your motor. You would then need an ecu and the ford coils for it. Pm me if you are interested. Haltech has a stand alone ecu for just the coils/ igition or edis6.

Well my stock original 1971 series 1 tach works with my fully sequential r35 coil on plug Efi system (haltech elite 750) . I literally ran the coil positive out from the ecu through the white wire with a red band then out to the coils through tachs white wire with a black band. Nothing else was needed. Added about 15" to my entire positive for the coils. I like how the tach feels and reacts the same as it always has. This would work on any 240z tach and a rb swap or aftermarket Efi with COP and fully sequential. I don't know if it would work on wasted spark or not. Thanks Dirk Stoop for pushing this way vs the others. Where I got the idea https://www.viczcar.com/…/9515-getting-a-240z-tacho-to-wor…/

I finally got my fully sequential ITBs to fire and run! She is a little rough. But pretty amazing base tune and help from Richard Boyk! I can't wait to get a fully dialed tune running. Worst part is my fuel pump is super loud. FullSizeRender.mov

This is what I went off of.

It is. Fuel enters at the front

My valve cover is powder coated, so I won't be changing it. That hose never bothers me for some reason.

I think it looks better. Still busy though.

I gave up on mounting the fuel pressure regulator on the engine bay walls, I hated the amount of hoses that crossed over the engine bay. I ended up buying a radium -6 direct mount FPR (very nicely made). Then I had an adapter machined to match the 14mm fittings that the Jenvy fuel rail uses. I should be able to split both sides of the FPR to my 7mm return and my 5mm return. I think I came out great. Very neat design by radium, it can be mounted in any direction.

I believe I have those sizes brand new, pm me.

Fuel pressure settings? I would drop air and main

I have an updated sensor I would sell cheap that I have left over for it. Shoot me a message.

I am going to attempt to move my FPR to the drivers side and use it. That way I am hard lines under the car. I will T the return from 7mm to 5mm and return via the stock 5mm line and the 7mm vapor vent line. Then use the 5/16 to feed the ITBs. Hopefully it works! I bought some 7mm efi fuel hose from belmetric. So that should give me a good amount more flow. Hopefully my push lock fittings work with it. My FPR mount was waiting to fail, i cut a lot of the strength out. So I will need to fabricate another and put it in my stock coil spot. Should end up looking pretty clean and simple.