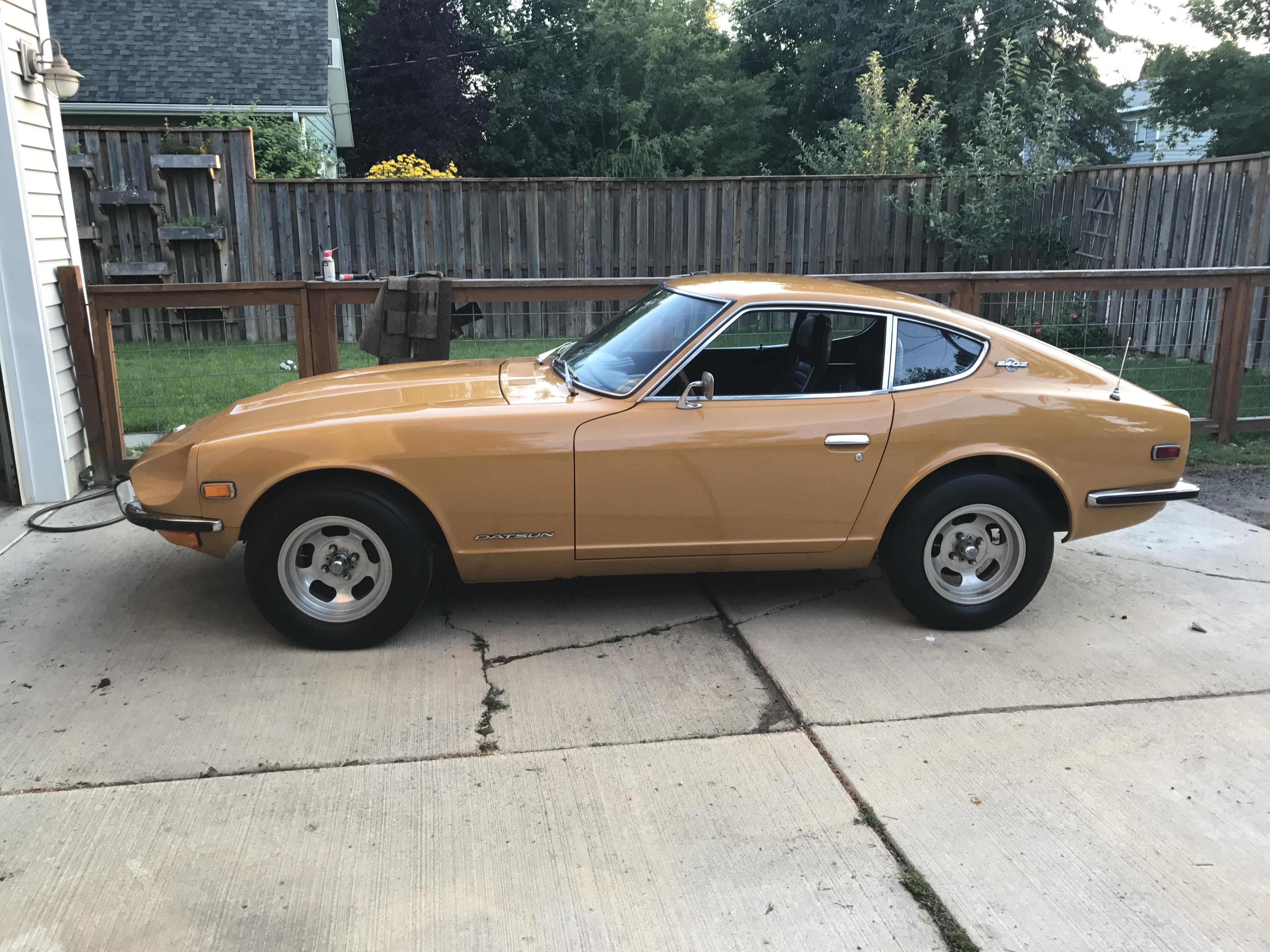 Posts

746

Joined

Last visited

Days Won

7
Profiles
Knowledge Base
Zcar Wiki
Business Directory
Forums
Gallery
Calendar
Downloads
Store
Collections
Classifieds
Links Directory
Community Map
Everything posted by duffymahoney
I will have to fix that little pinch. I like the stock style hoses. Adds some style to the hoses.

Sounding good! FullSizeRender.MOV

1

Finally getting somewhere with iac and cold starts. IMG_0256.MOV

Still finalizing it all. Currently won't start, so I am trying to figure that out. The iac is just a bosch.

ITB with IAC take 3. My last bmw IAC wouldn't play nice with my haltech (basically it's the opposite of how haltech controls it). This one let's by a tiny bit of air at full closed. I plan to see if I can set the butterfly's and it to play nicely and not idle too high when the engine is warmed up. Fingers crossed.

1

Whatever AF mixture I want. 35lbs can go up to like 500+ hp. Which I will never achieve.

I ended up getting new injectors. These are 35lb and they have a traditional 20 degree cone spray pattern. Prior I have a v pattern designed for DOHC motors. Squirting at two valves. Hopefully the work a little better. They are slightly longer. But I got them to work.

1

Well Tons if fiddling and swear words. I now have 100% throttle engagement from the gas pedal. Turns out prior I only had like 70%. I normally work from the engine bay and I could always get 100% from there. Whoops FullSizeRender.MOV

I am using a mid 80s bmw iac valve. I was having a hard time finding a hose that looked good and would hold the vac without collapsing. Then it dawned on me, maybe one meant for the same bmw. Fits awesome and is exactly the right size for my balance bar. Stoked

2

I bought the WB2. They updated the plugs and u shouldn't have to de-pin it to get the plugs through the body. Which will be nice.

Yes Can Bus is what I meant.

My friend swapped my clutch and fixed some bugs. But putting my center console back in, he pinched a wire on the o2 sensor. Shorted and burnt my dual o2 can sensor up.

2

One of my issues so far with running is my injectors that fit nicely into the throttles are a V stream. So I believe they are just spraying on the walls. I am going to switch out to DeatschWerks 18U-00-0035-6. Single cone spray. They use the same connector. Hopefully I can get the correct orings to deal well. Tiogatold me to do this in the start. I should have listened.

With the Yen being so low, buying from Japan is awesome! Fujitsubo or similar can be had at a discount.

It will get checked again. Fingers crossed. It will go back to the machine shop to get decked again and re lap the valve seats. first it needs to go in a large ultra sonic tank.

1

Well sadly my ported E31 head was in an engine shop fire. Luckily my 3.1L was pretty far away from the flames. Well lots of elbow grease and 4 hours in my vapor blasting cabinet and it looks as good as new!. Now time to have it put back together.

2

I have a dyno tune session booked. But the tuner kind of rubs me the wrong way. I love unique things and a challenge. I also hated the black bodies of the Jenvy. The SK look rad. That being said I think I would pick borla if I started over.

1

IMG_8242.MOV A video of Matt with my window regulator. I bet I have 20 hours into the stock one. This is a repopped one from zcardepot. Matt is a wizard with this stuff. IMG_8242.MOV

1

In the IAC settings, you can turn on idle controlled via timing. I had that off. It seems to help. I have a noisy tps as well. Something I might try is grounding the shielding? Or I might re-run that wiring set. I would have to look at what plugs, but they are stock efi? Or something of that sort.

A little update on my ITB build. In the middle of this build I decided to buy a historic building and renovate it, then have my first child, so everything got pushed to the back. I am finally finding time to work on it all again. I think one of my biggest issues was voltage from my old alternator, upgrading that has made everything more happy. Well finally got my osgiken clutch out and went with a stage 1 from exedy with a lightened steel flywheel. The osgiken was way too hard for me to street drive and my wife hated it. It was poorly installed by me and it's a pretty racey clutch. I sent to Z car off to a guru. Andrew Kazanis, he swapped the clutch, found my clunk (exhaust hitting during load) and change my rear main seal. Then his buddy Matt finally fixed my passenger regulator. Which hasn't worked in years. I went with a repopped one. Matt thinks my rear end is a little noisy, but Andrew can't hear it. I cannot thank Andrew enough for all his help. He is a friend and just an all around great guy. If I was to start this over, I would pick an ECU that someone in the area knows. I think ITB is something I jumped into, without enough knowledge or money. So many small issues popped up, and all stopped or slowed me down massively. You really end up chasing your own tail a lot, trying to do all of this. A few on here and on facebook have helped a ton. Tioga, Richard Boyk, Rodney have helped so much. Maps, settings etc... Somehow they have completely different views on pretty much all of the maps, but all are very knowledgeable and all know a ton more then me. It will be interesting as I road tune which maps/ settings I like more. Haltech is nicely made stuff, but I found their original software extremely hard to figure out. They have since done a massive massive upgrade (NSP) and it's much easier to use now and much more intuitive. Also tells you when settings and maps are in conflict. Which is huge! I am getting pretty confidante and I think I have all the small ECU settings correct. The ECU should start self tuning. So time to drive her and get it running right. I literally got stuck for months from one stupid box being checked, I couldn't get the idle right during cold starts! IAC or not. I will most likely attempt to use IAC again. I have it fully plumbed and wired, it's also a learning feature of the ecu, so it should be the best route for cold starts. I will turn it off after say 100 degrees, which the motor idles fine after that. My hand throttle works, also using timing to help cold starts also helps a ton. Also don't rip out perfectly good jenvy throttles, for vintage SK throttles unless you are dumb:)

3

What a great part for the z community. Fully sequential!!

I zinc'd most of mine. But painted part. I don't think 100% zinc is a good idea. Check my build. It has picture of it.

The chinese pumps valves seem to be one of the fail points. Maybe I got unlucky, but mine died quickly.

Nice! I rebuilt and sold 10 or so of these over the years. I used Nos other Nikki pump internals on mine (most cheap off ebay) The screws were perfect on the NOS. Then I sent the inlet and outlet off to zinc, then vapor blasted.