Fusebox 3D drawing (sketchup) for early 70 240Z-detailed

Hi all,
I soldered both ends of all rivets and all wire crimps to fix fuse box overheating. Rivet and crimp location shown here: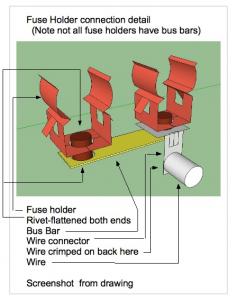 Other screenshots from drawing: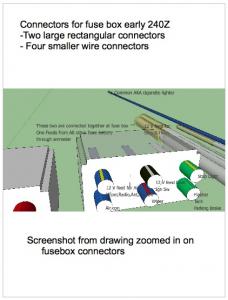 Drawing:
240Z_fusebox_early_1970_final.skp.zip
I pulled the fuse holders from the fuze box before soldering to prevent melting. Sanding or cleaning the fuse holders with copper cleaner and bending the fuse holder together to tighten the grip on the fuse also can help with overheating.
You will need sketchup or sketchup viewer to look at the attached drawing which can be downloaded for free from Google. The drawing is 3D and can be zoomed in for details. It shows the inside/outside of the fusebox including the fuseholders, the colors of the wires and has text to indicate the destination for each wire. It also shows the cables that go out the back and the connectors on the end of the cable with all connections labeled. It is very close to being a scale drawing.