Clock face scanned in for 240Z series 1

BE SURE TO SAVE THE FOLLOWING ZIP FILE PICTURE FOR PRINTING NOT THE ONE VISIBLE ON THE SCREEN (keeps DPI correct to print to original size):
clock face 240Z series 1 scan cleaned.jpg.zip
For viewing but not for printing: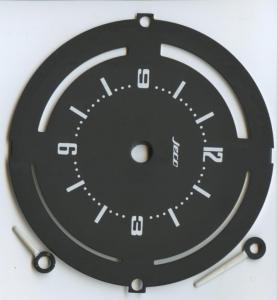 The attached .ZIP file clock face is a scan of a 240Z series 1 clock. The original clock face was removed from the clock and placed on a scanner so there should be no perspective distortion. It could be printed out for a creative project if someone were so inclined and placed on a desk top clock face (might need white hands?) to make the clock look like a 240Z series 1 clock. To do this you could pull the hands off or possibly point all the hands in the same direction and feed the printed face over the desk top clock hands through a hole cut in the middle if one of the hands doesn't stick out in both directions from the post for the hands. Another option is to use a razor blade to cut a slit from the middle to one edge and make a small hole in the middle for the post the desk top clock hands are on. Usually it will look better if printed on photo paper.
To print this the same size as the original clock face select 100% scale in print preview and don't change the resolution from the 600 DPI the .ZIP file image is currently set to. Note that the scan here includes the four curved slots that allowed light through from inside the clock for the night time light for the clock, these curved slots would not normally be seen when the clock is installed in the vehicle and may be cut off.
To change the printout size change the DPI or resolution as it is also called in your print preview. To make the printed face half as big as the original clock face change the DPI to 1200, to double the size change it to 300 DPI.