Access door for fuel vapor hose

Hi all,
I put in an access door for the large fuel vapor hose that connects on top of the back of the gas tank making it easier to change out the hose. After dropping the tank to change that leaking hose I realized I wanted easier access to that hose though I recognize it might be a while before it needs replacing again. I figure anything that makes upkeep easier prolongs the life of the car.
I put an aluminum rod approx 1/4" DIA about 10 inches long into the part of the hose that connects to the gas tank that was to be bent into a "U" shape to keep the hose from kinking and closing off. I verified this after bending by blowing through the hose. The hose I used was not OEM. It is no doubt stouter than needed as it is rated for 350 PSI, marine use and is ethanol resistant. It fit fine on the tank though on the other end I had to slit one side with a hacksaw to get it to fit over the nylon hose connector at the fill tube. I clamped it on with a radiator clamp and sealed the slit with Seal All. The hose was stiff to install but should last a long time.
Mike
Final result, painted access door (other pictures taken before paint):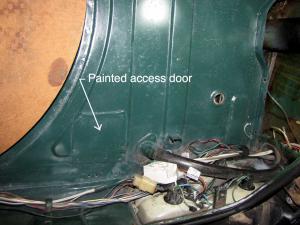 View thru door (new hose):......................................................Door closed: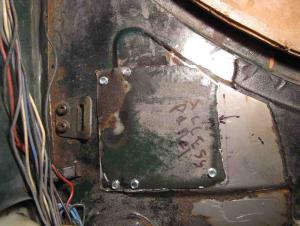 Bottom view no tank:...............Access door seal: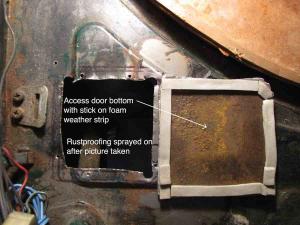 Access door hole location:........Original hose seen here: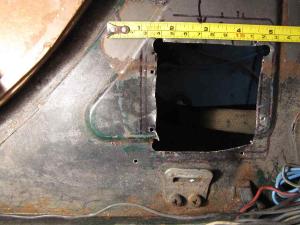 Fuel vapor hose I used (very stiff hose) (pictures of numbers seen on hose):
Weatherhead 5/8" H10110 Made in USA 1008, MSHA 1C - 46/6: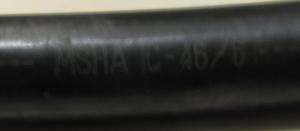 End view with ruler showing diameter: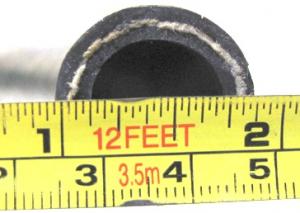 New hydraulic hose is a tad too big to allow grommet to fit in hole in car so I just pulled rubber grommet down the hose slightly and didn't use it. Hose is very strong (rated 350PSI), IMO doesn't need grommet:
Seal All applied next to filler hose: