Horn Button DATSUN label printed

I had a horn button but no badge on it with the word "DATSUN" so
I selected a font similar to a real badge and resized it to print at the right diameter to tape to the horn button. See below the asterisks for another print option using a scan of a real badge that I obtained after I originally wrote this. Continuing here, the font selection came out okay, see attached picture of result and the file I printed the word "DATSUN" with. Printing the label on photo paper if your printer supports that or having it printed at a kinkos type of print business might significantly improve print quality and make the background print blacker. I covered the printout badge with clear packing tape and cut out two round circles from a document protector plastic to put on both sides of the printout to keep the printout badge looking okay. I used a bench grinder and a flat abrasive tool to grind down the edges to a fairly round shape. I taped three little pieces of clear packing tape from the front outside edge around to the back to hold the assembly together. Then I rolled four pieces of clear packing tape around on itself with the sticky side out to tape the whole thing to the horn button. I may get a real badge someday but this printout will work until then.
To make the size correct in print preview select 100% as the size or 72 DPI which mean the same thing in this case. If the print is the wrong size adjust the DPI to be different than 72 DPI, maybe try 80 or 65 or some other variation. Printing at 80 DPI will make the print a bit smaller, 65 will make it larger.
Mike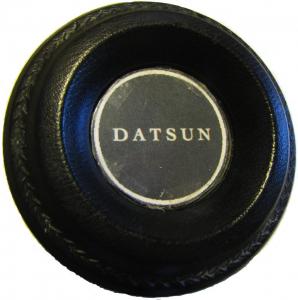 ***************************************************************
Note that since I originally wrote this I obtained a horn button with the metal label Datsun on it. After I removed the metal label I scanned it in and it can be seen below. I touched up the scan to get rid of dust particles etc that were visible. It was scanned in at 400 DPI, using that resolution when printing should yield the correct size.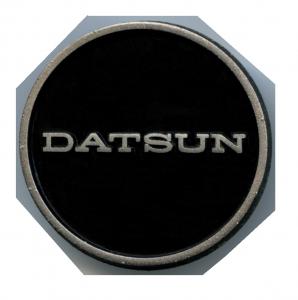 Back of horn button and badge label dimension information: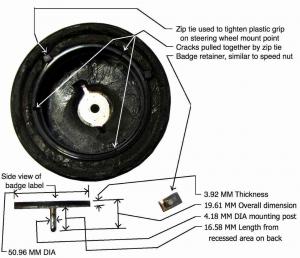 The mounting post is in a recessed rectangular area so that the length of the post
and the thickness add up to more than the overall distance from the
end of the post to the other side of the label if that makes any sense.
Symbols on back of badge label: