240Z frame drawing sketchup

Updated 30 Mar 2014:
Screenshots:
Rotating view (click to zoom in):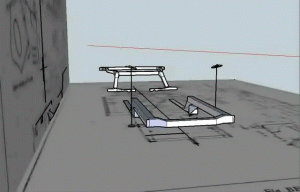 Front frame rails: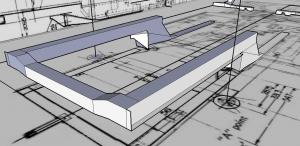 Rear frame rails looking towards front of car: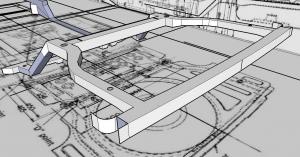 Sketchup drawing for download:
240Z frame rails whole car 20 Mar 2014.skp.zip
Sketchup drawing viewer can be downloaded here:
Revision history:
2013 Dec- Updated drawing includes holes I noticed in the frame behind the seats. (Holes are now in correct location if you happened to have viewed this drawing the first couple of weeks in November)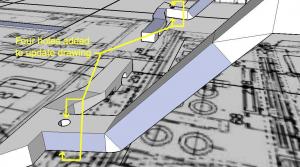 There are a total of four holes added to this drawing from the original, two behind each seat. They are in the same location on the floor on a 1/1970 car and on a 1/1972 car where I have seen them. The two holes behind the drivers side seat are in line with each other vertically so that with the plugs out you can look straight down from inside the car and see the street. Same situation for passenger side, trying for clarity here. The holes are 20 mm in diameter. The holes are in the middle of the frame rail that heads back and up towards the floor beside the shock towers.
2014 March 30- Updated drawing to correct the diameter of rear frame holes next to spare tire just forward of the tail lights. Also the rear crossmember in front of the rear bumper is now shown correctly as being open on both ends, before it was shown as closed off.
The attached sketchup drawing is done to scale and includes the front and rear frame for a 240Z. Can be viewed with the free program sketchup, download from Google (Mac or PC, can work with Linux). Can be zoomed in and viewed from any angle. The drawing was made from measurements from my own car and from the chassis dimension drawings to maximize accuracy.
Can be converted to Autocad readable .DXF with Sketchup pro for importing into Autocad. May need an older version of Sketchup pro to make the resulting .DXF work with an earlier version of Autocad.
I found it interesting that the inside frame rail to frame rail measurement on the rear frame rails where the spare tire well is on my car measured about 10 MM further apart than on the chassis dimension drawing. The manufacturer must have made a slight change there unless whoever made the chassis drawings was off a bit in that area. I made my sketchup drawing agree with the dimension on my car.
Drawing does not show narrowed section on both front rails located about 5 inches behind the radiator support. I could not accurately define that narrowing with the tools I have so I left that off for now.
Litecoin QR code for donation: