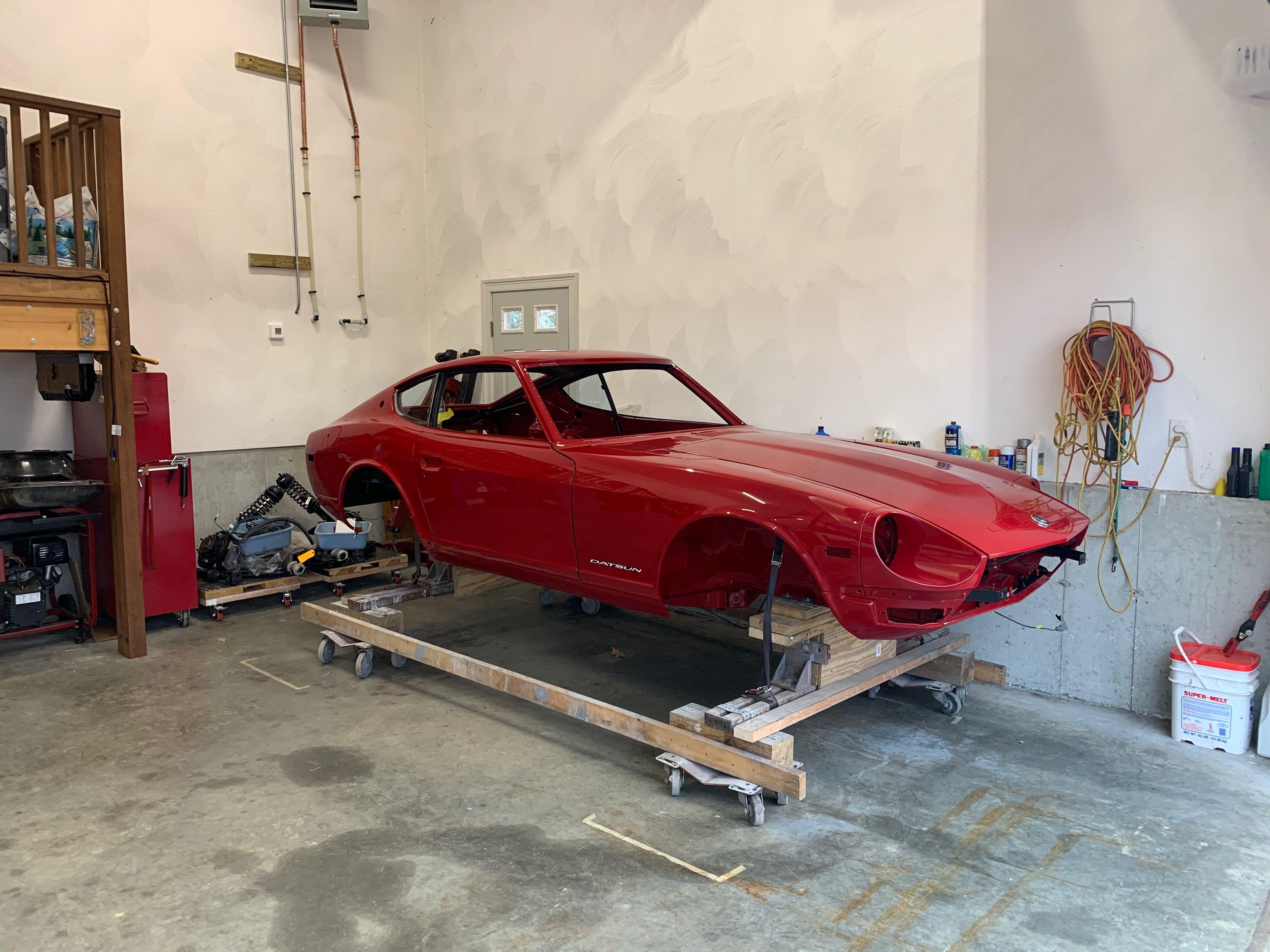 Posts

65

Joined

Last visited
Profiles
Knowledge Base
Zcar Wiki
Business Directory
Forums
Gallery
Calendar
Downloads
Store
Collections
Classifieds
Links Directory
Community Map
Everything posted by foosman
I've ordered a bunch of stuff from Steve (240zrubberparts.com), and have been satisfied so far. He even went so far as to create a custom set of his engine tab rubber covers for me - his are sized for unpainted tabs, and my tabs were painted by the body shop so when I went to install his standard pieces they split along the sides. He replaced them with a set to accommodate for the additional paint thickness that worked out fine.

They are prompt in filling/shipping orders, but when I had an issue with the quality of the pieces in one order a while ago, they responded to the initial email contact but went silent after that. I typically use them as a last resort, or when I'm 99.9% sure I won't have an issue with the parts I order.

I have one from the Vintage Rubber full car kit that I bought a few years ago - the fit seems good (hasn't been leak tested), but it's been a challenge getting it to stick to the body. Body shop cleaned it a couple of times and re-glued, but it's still pulling up from the hatch frame. A thin coating of the seal is now stuck to the body, so the next step is to clean that off and try reattaching the seal yet again. Should that fail, I'll probably have to search out an alternative.

Someone just posted in one of the Facebook groups a picture of a full rear quarter panel as well. At the rate they're progressing, in a few years you could probably assemble a complete car with their panels.

I just put the Classic Tubes set (OE steel, not SS) in my 5/71, all except the flow guide vent line (I reused the OEM tube). Mostly accurate - I had to do some serious re-bending on the clutch master cylinder line to match the OE one I pulled out, and I had to adjust some of the bends in lines going through the 4-gang mounts on the firewall to get them to sit right, but overall I'm happy with the set.

Cover up the sunroof with a "period correct" vinyl top? Just kidding ... 🙂 Welcome back to the Z community - I took a long hiatus myself, around the time that the original IZCC mailing list closed down. My last running Z got sidelined in 1994, and my focus shifted elsewhere. Came back in 2014 when I finally pulled that 240 out of storage and began the restoration process. I seem to work in decade chunks, so hopefully the restoration will be done by 2024.

I also remember liking this one when it came out

Yeah, that was an instant classic when it came out - the Eugene Levy Thrill Driver one is good, too.

I'm using Elliot harness tape (ETN1000E) on spot repairs to my '71 harness - nice match to the OE tape, and it is adhesive.

So - it seems from all reports that today's replacement pumps all fail prematurely. Is that because of poor quality internals, and if so, why would someone want to use them to rebuild their pump?

I installed them, but it'll be some time before I have any experience with them. The core charge was only $11 or so, so I kept the originals too.

If you're interested in going this way, the website states "If any item is out of stock and you would like to order, then please contact us". I'm guessing that they just don't keep a lot of stock on hand of any piece, and will probably make them on demand. I bought a few of the single and double wiring tab covers a few years ago, and they seem pretty nice.

@FresnoZ It looks like shipping to Fresno will be somewhere in the $15 range via USPS (unfortunately, I'm on the opposite coast). A word of caution - these things could be 40+ years old, with 40+ year-old adhesive. They still seem pliable and in good shape, though. There is probably extra stripe material in each kit once you trim to fit, so it might be worth sizing what you need, trim off some of the extra, and do a test mount with the trimming on something similar to a car body to see how it sticks. Send me your address, and I'll drop them in the mail. Once you get them you can send me the actual shipping cost.

I picked these vintage ones up years ago at a garage clean-out, and I'll never use them. They probably aren't what you're looking for, but you can't beat the price - cover the cost of shipping and they're yours.

2

Scammers are on the rise - I received a suspicious "Hey buddy" message from "wins23" last week, similar to the ones above, asking me to contact some random guy at some random email address for the door parts I'm looking for.

I'd guess that the bottom one has JIS screws, which require a JIS driver to avoid ruining the head. Top one may have been disassembled at some point in its history, the PO used a Phillips screwdriver, trashed the heads, and replaced them with Phillips screws. All just guesses on my part - possible someone else on the forum has more definitive information.

View Advert WTB: Driver side door handle linkage parts for a 1971 Looking for the joint parts circled in red (bolt, bushing, washers, nut). Advertiser foosman Date 02/06/2022 Price Category Parts Wanted Year 1971 Model 240Z

Sure - copper conducts heat more efficiently than aluminum, but radiator efficiency involves more than just the metal used. Tube diameter, surface area, airflow restriction - in some designs, aluminum allows you to optimize these parameters better than copper does. To imply that all aluminum radiators are crap is a bit short-sighted - I've used an OE-style aluminum radiator in my Corvette for years, and it cools just fine.

I put a set of the Classic Tube OE steel lines (minus the fuel vent line - I reused my OE one) in my 5/71 about a year ago. Overall, I'm happy with the kit but several of the lines needed some adjustment to fit correctly. They weren't exact matches to the originals, but it's hard to say whether my originals hadn't been "adjusted" by a PO. In particular, the clutch master cylinder line was way different from my original, and the several of the bends in the firewall area needed to be adjusted to match the insulators and the spacing/angles of the other lines in the 3-gang and 4-gang insulators. The OE steel lines are easy to rework as needed - I adjusted mine by hand, and they came out good enough for me. Still on the fence about investing in the tooling to rework the bend on the top line on the driver-side firewall so it's a bit smoother. On a related note, if you decide to replace the insulators and brackets, the set I used is from Zcar Depot. It's ok, but the set I received had a few shortcomings to be aware of. The fuel return line hole in the tranny tunnel insulators is way too big for the small OE fuel return line. The 3D-printed blocks are stiffer, so they will require more effort to install, and are visually different than the OE rubber for those who care. Also, the kit came with an incorrect "short" bracket for the fuel vent line (the long single-line bracket on the driver-side firewall), so I cleaned and reused my OE clamp. The urethane block for that clamp is sized for the smaller diameter brake line, not the larger diameter vent line, so I reamed out the block as best I could. I'm not building a 100-point car, and it was quite a bit cheaper than the same set from 240zrubberparts.com, but that set looks like it avoids all the shortcomings of this one. If I had to do it again, I'd apologize to my wallet and go with 240zrubberparts.com.

1993 - Chino Hills CA to Clinton MA. The top 240Z wasn't running at the time (and still isn't ...) - the hauler was parked at the bottom of the hill I lived on, and I was able to coast down the hill with enough momentum to get it onto the first ramp. From there, the driver worked it with hydraulics and ramp tilts to get it above the cab. Aside from some minor dings on the tail end of the Corvette, the cars arrived unscathed.

Not to derail the original thread, and assuming that ZCD = ZcarDepot, MSA is a whole lot better at addressing issues than ZCD. Brought up defect issues on my first order with ZCD a year ago, and aside from an initial response, they went silent on the issue. MSA has usually been very responsive, and as a result they get most of my specialty Z parts business.

Ordered up a set of stock reman calipers from Autozone - picture on the website shows Sumitomo castings for the housings, but the ones I received have no such "SUMITOMO" markings. They visually match the Sumitomos that I currently have, other than the 20 years of rust on my originals, so it's not like they shipped me the entirely wrong calipers. Did someone start reproducing generic housings for these calipers at some point? I'm inclined to return them, and keep looking for ones with the correct Sumitomo castings - if anyone has good/bad experience with the various remans (Nugeon, Cardone, Centric, etc.) for these, I'd appreciate the info.

I'll second Vintage Connections as a good supplier, their stuff is top shelf. I've also had good luck with these guys for wire, although their striping is spiral like everyone else it seems. https://4rcustomswire.com/

I'd start with making sure you've purged all old gas (just because it can't hurt), then look at the accelerator pump per Zed Head's advice. Check to make sure you're getting good squirts in both primaries when you pull on the accelerator rod. Even with a good diaphragm, I find that the passenger side accelerator pump orifice in my 4bbl Holley sometimes gets plugged, especially after sitting all winter (and I run Stabil every fall). I've had to clean out the orifice with a needle in the past when I couldn't get it to flush out on its own.